Ware & Kay Solicitors, one of West Yorkshire's most established law firms, is relocating its Wetherby office in January 2020. It is moving from its office in Brunswick Court, Victoria Street, to new offices on Wharfe Mews, just off Wetherby High Street.
The relocation is a result of continued growth over recent years increasing the staff based at the current office. The offices comprise of a modern two-storey premises with over 2,000 square feet of office space including staff workspaces, private consultation and conference rooms. It offers free on-site parking to visitors and clients. The move means that Ware & Kay Solicitors continue to be easily accessible remaining at the heart of Wetherby town centre.
Our new address is: 3 Wharfe Mews, Cliffe Terrace, Wetherby LS22 6LX.
You will see from the map below that we will not be moving far and the offices are easily accessible.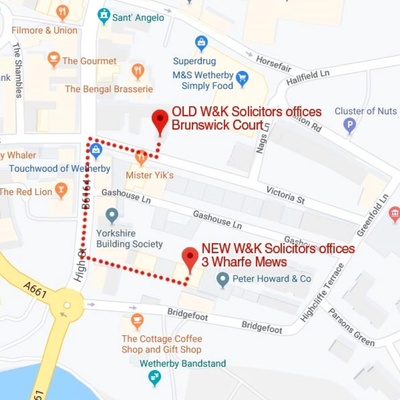 Our telephone numbers and email addresses will not change. If you have any queries please call the office direct on 01937 583210.